An old warehouse at Brompton, in Adelaide's inner north-west, has been destroyed by fire. 
Key points:
Fire destroyed a former joinery at Brompton 
The owner of the property yelled at the MFS chief fire officer
Neighbouring distillery damaged in the blaze
Flames engulfed the former joinery business late this morning, blowing plumes of black smoke across the area.
Neighbouring businesses raced to save their valuable equipment and cars as more than 60 firefighters battled the blaze.
The Metropolitan Fire Service (MFS) said there were three people inside the First Street property at the time but that no-one had been injured.
A woman who said she also owned the property interrupted a press conference, yelling at Assistant Chief Fire Officer Peter Mason and members of the media. 
"This is not the time and place for you to be here. If you're going to talk to anybody you talk to me, not the press," she yelled. 
"My brother was the occupant of the property," she said. 
When Mr Mason told the woman that he needed to recognise that firefighters had saved the other businesses, she responded: "I don't really care." 
Heated arguments then erupted between the woman and a group of men from a neighbouring business.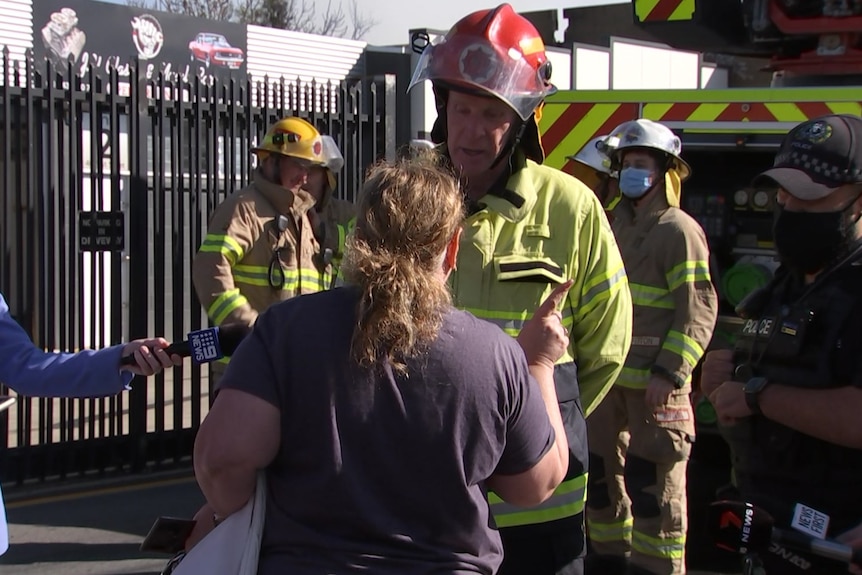 MFS commander Declan Dwyer said crews worked hard to stop the fire spreading to the two adjoining properties, one of which is a gin distillery.
"[The distillery] was a significant threat. It's quite flammable material and, if the fire had breached into that area there whilst we were still setting up, that would have created a pretty significant explosion, which would have placed a number of other houses at risk." 
Nick Wyatt-Smith from Storytellers Distillery said they had not been allowed to assess the extent of the damage to their business. 
"It's pretty heart-breaking, you put all your time and effort into building something off the ground and then something like this happens and it takes you a couple of steps back," he said. 
Crews are yet to determine what caused the fire in the warehouse, with the building is at risk of collapsing and too unsafe to enter. 
Posted , updated