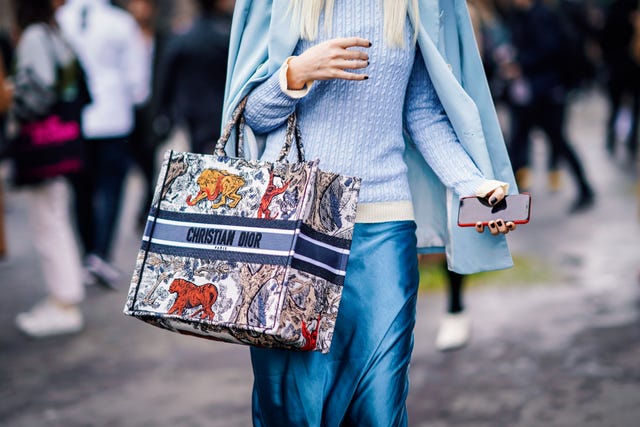 Edward BerthelotGetty Images
It is difficult to remember a time when the tote bag was not a key part of our wardrobes. Whether it's because our handbags became too tiny to carry our day-to-day essentials or because we now all rightly shun the use of plastic bags when we pop out to the shops, many of us turn to the humble tote on a daily basis.
And, while tote bags can provide a great way of telling a story about ourselves, in the same way that a logo or slogan T-shirt does, they are never the most glamorous or elegant addition to a look – and, more importantly, the sheer number of totes that we seem to collect is actually a cause for concern. According to a recent investigation by The New York Times, which reported on the "cotton tote crisis", a tote bag needs to be used about 20,000 times to offset its overall impact of production, something which is particularly difficult when we seem to be happily collecting new ones all the time, but also because they really are not built to last.
The cotton tote is something which we have come to rely on, and it's unlikely that the trend is going to die down anytime soon. This is perhaps why so many high-end fashion brands have started tapping into the idea, creating luxe versions of the style, which are practical and chic but are also actually designed to stand the test of time.
According to Cassie Smart, head of womenswear at Matches Fashion, more and more customers are looking to invest in XL bags which offer them a practical daily solution.
"We have seen our customer gravitate towards larger totes and bags over the past year and for AW21 we grew our buy by 35 per cent," she told us. "The tote has moved on from just a practical bag to carry your laptop to work in – many XL Bags, large totes and holdalls feel luxurious and are timeless investment pieces which our customer is engaged with."
When we consider how fashion has changed since the start of the pandemic, and how many of us have started to invest in practical, long-lasting capsule classics over flash-in-the-pan trends, it is perhaps not all that surprising that designers are embracing the idea.
Marc Jacobs is one such brand which is betting big on the high-fashion tote. The American label has released 'The Tote Bag', a chic offering which comes in various sizes and fabrics (from cotton to leather and shearling) and which is clearly designed to be an elegant alternative to the flimsy tote that we carry on a daily basis.
Likewise, Loewe's 'XL Flamenco' and Khaite's 'Amelia Tote' are both excellent examples of investment takes on the trend, while Dior's 'Book Tote' has become a phenomenon in itself, putting a statement spin on what was traditionally such a lacklustre item.
So, if you want to stop relying on throwaway cotton totes and want to invest instead, we suggest that you opt for a design that will not only make your day-to-day life easier, but which will actually elevate your ensemble and be something you rely on for years to come.
Below, we round up some of our favourite high-fashion totes to shop now.
This content is created and maintained by a third party, and imported onto this page to help users provide their email addresses. You may be able to find more information about this and similar content at piano.io