Lions and tigers and bears, oh my! Well, if you go down to your local Balenciaga store today, then there's a good chance you'll bump into the middle of those three. OK, maybe not real tigers, but Demna and the gang have certainly come up with a more novel way of ringing in the Lunar Year than most! Of course, the Parisian house's latest antics aren't all that's been happening in fashion this week. For starters, there are the couture shows (which you can catch up on here), and then there are equally fabulous morsels like the launch of a new menswear label from the names behind Kwaidan Editions, and a bold new rebrand from HUGO BOSS! We're also bringing you the latest on the new SS22 collection from Amiri, as well as an interview with Augustin Dol-Maillot, the creative powerhouse behind one of the most innovative names to know in knitwear. Reading glasses on, girlies! Here's what's in fashion.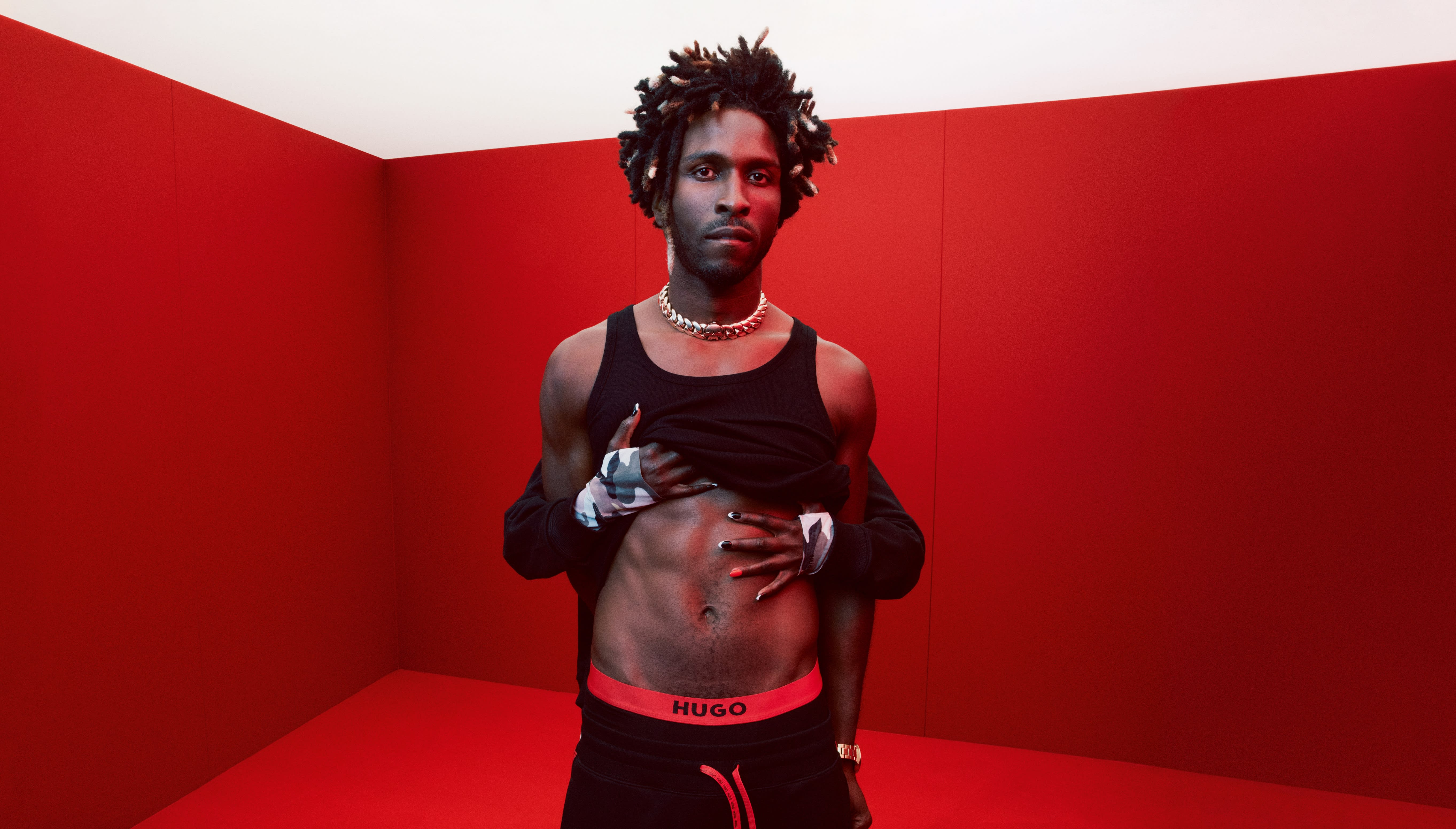 Image courtesy of Hugo Boss
Hugo Boss gets a fresh new look
Grey and miserable as it may be, one fabulous thing that January does offer us is the chance for renewal – the opportunity to reinvent ourselves anew. This year, it would seem that the team over at HUGO BOSS, one of Germany's most iconic labels, have made the most of that, launching fresh new looks for the two brands beneath its umbrella. Yes, both HUGO and BOSS are receiving a facelift, with two bold new logos and looks to boot. Perhaps most exciting of all is HUGO's #HowDoYouHUGO campaign, which features an enviable cast of some of the hottest faces in fashion and wider pop culture out there. Supermodel du jour Adut Akech, K-rap star Big Matthew, dancer Maddie Ziegler and Guyanese-American musician SAINt JHN all feature in the bold new series shot by Mikael Jansson, with an accompanying socials first campaign set to roll out onto your screens right about now. HUGO really BOSS-ed it with this one! MS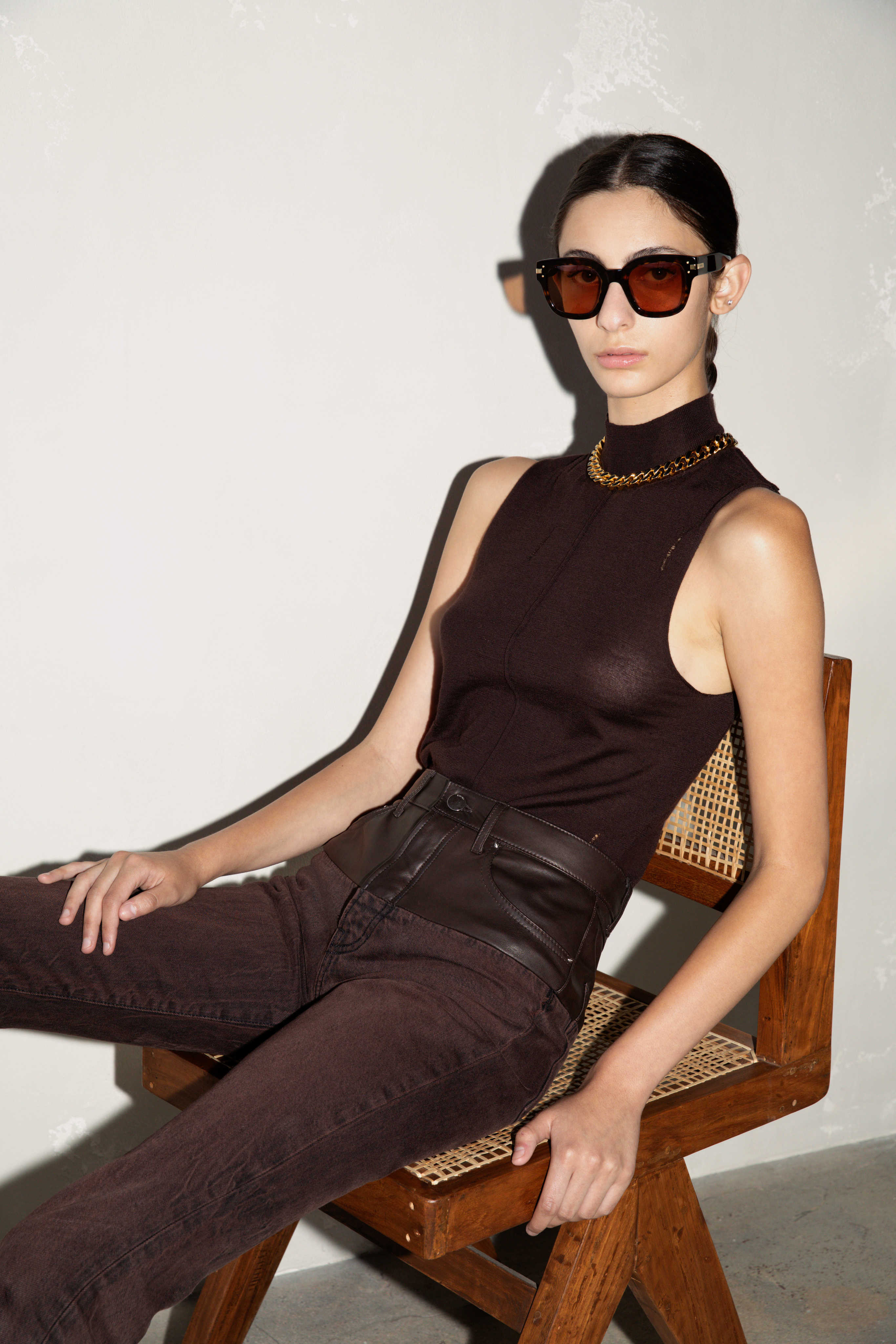 Photography Hart Lëshkina. Image courtesy of AMIRI
Amiri brings its haute-luxe vision to womenswear
Ok, so we know that it feels pretty wintry outside, but if you step into any store worth the ground it stands on over the coming weeks and you'll notice the first darling buds of spring sprouting from its rails. Yes, the arrival of the Spring/Summer 22 season is upon us, and one of the collections we're most excited to see in the flesh is LA label AMIRI. We're not talking about the slick menswear that you're well-acquainted with, though. This time, we mean the womenswear — the first standalone women's offering from the label. Extending the codes of relaxed forms, subtle Americana nods and an exacting standard of luxe that it's made a name of itself for, Mike Amiri and his team have created an effortlessly versatile wardrobe, comprising wide-leg trousers, sharply cut tailoring and fine shirting in the buttery leathers, sumptuous cashmere and crisp wools. If this sounds like the woman you're tryna be, then good news! The collection just dropped yesterday — head here to check it out. MS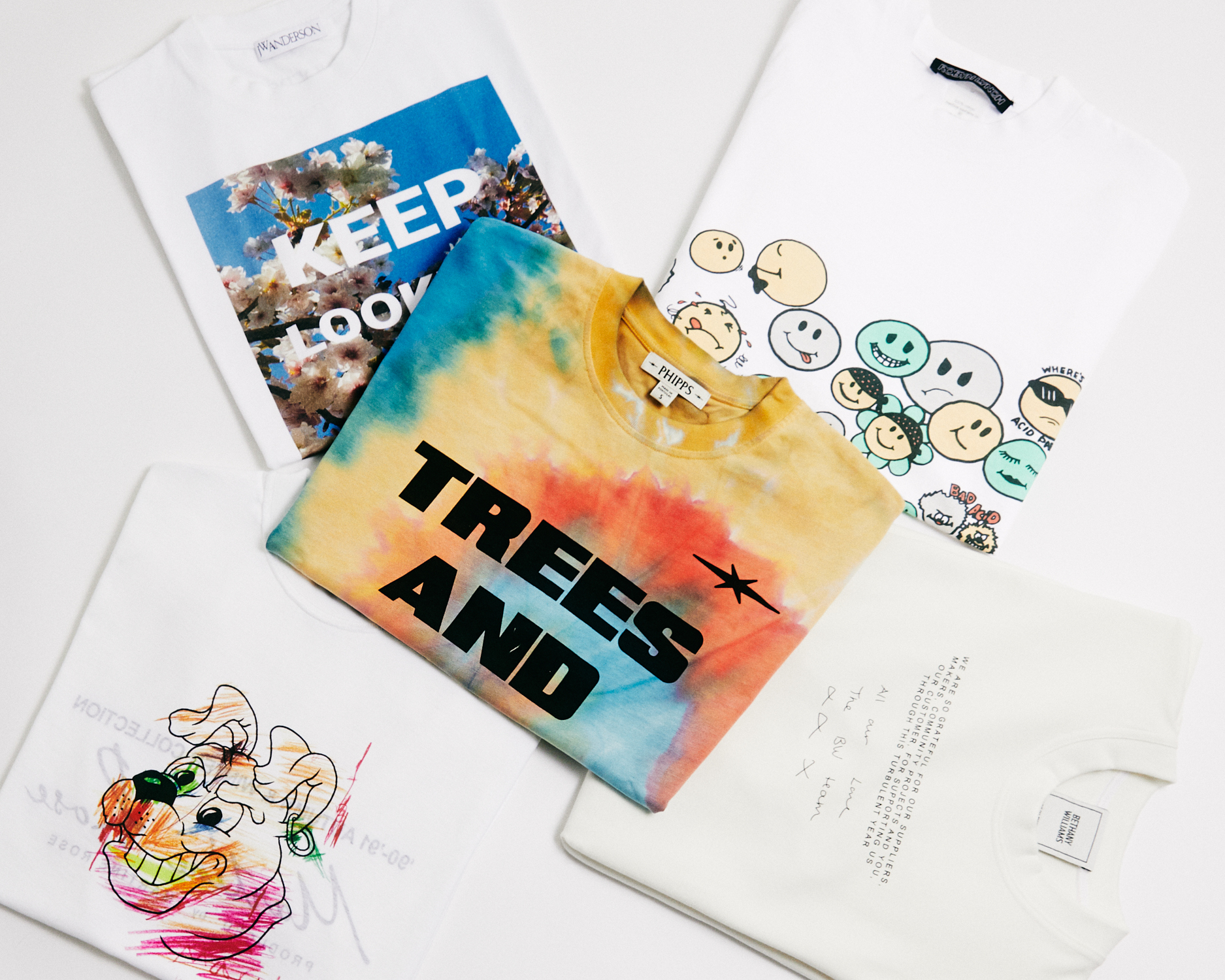 Image courtesy of Browns
Jonathan Anderson, Martine Rose and more have designed a wholesome capsule for Browns
Four weeks into the new year, what are we grateful for? That dry January is almost over, that fashion month has served up some stunning lookspiration, and that Browns has just dropped a new collaboration with some of our favourite designers of the moment. Aren't we spoiled! The London-based fashion boutique asked five names in fashion what they are currently thankful for and turned them into an exclusive capsule of environmentally-conscious collab tees called Grat-T-tude. First up is Fashion Awards winner Bethany Thomas who used her tee to thank her suppliers and be transparent about the brand's production system. After taking on the metaverse with Loewe AW22 earlier this month, Jonathan Anderson's organic tee tells us to "keep looking up", while Martine Rose went super cute with tees made from her own deadstock and then coloured in by her kids. Also recycling old materials is Phipps with his psychedelic ode to the "trees and stuff", while ever eco-friendly designer Robyn Lynch celebrated her upbringing with an 80s acid-house print design — inspired by a tee her mum once owned — reimagined in the colours of the Irish flag. So wholesome! Go check them out now on brownsfashion.com. You'll be grat-T-ful you did! TG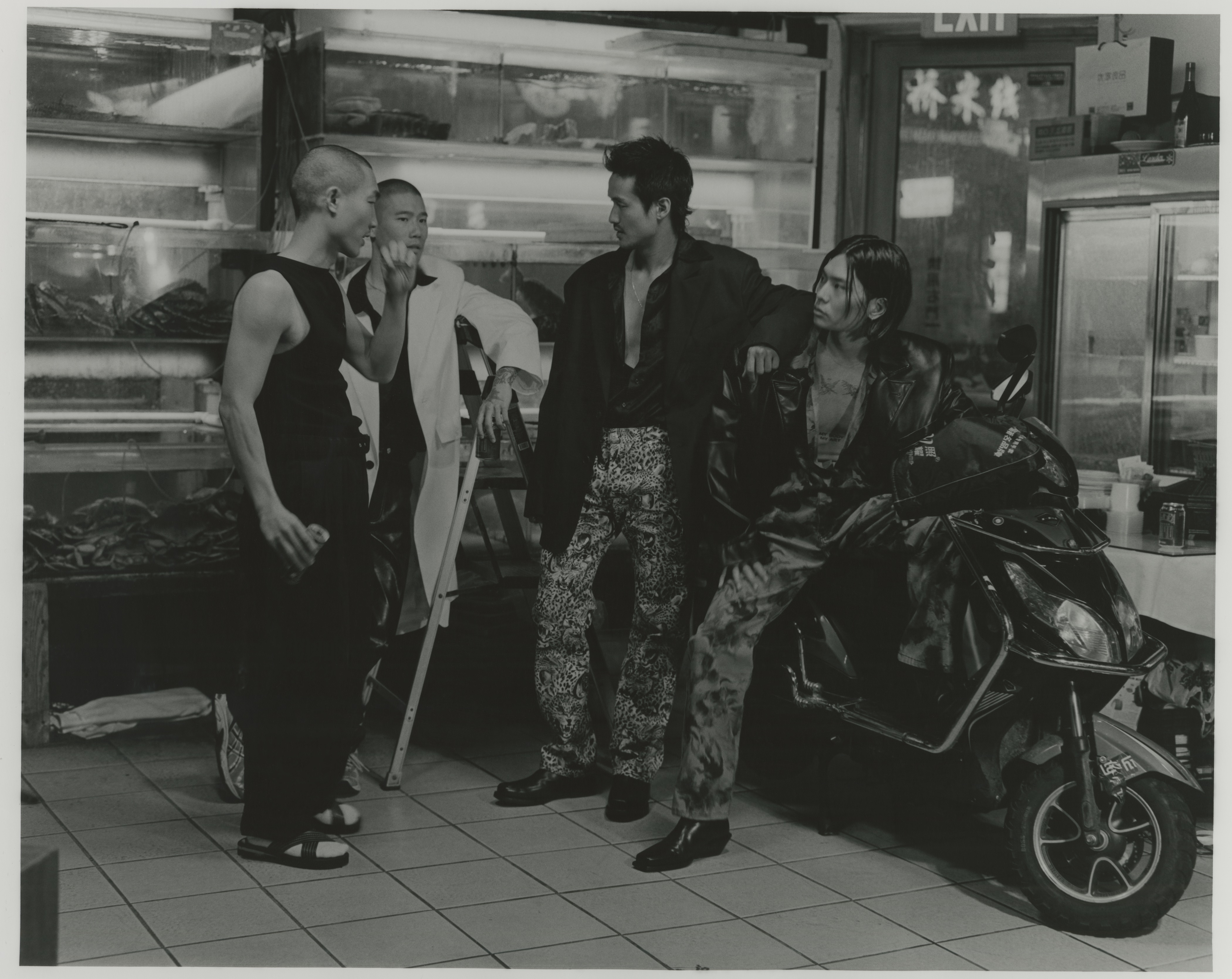 Image courtesy of LỰU ĐẠN
Kwaidan Editions' Hung La launches a new menswear brand
Hung La is best known as one half of London-based, Paris-presenting brand Kwaidan Editions, alongside Léa Dickely. With the launch of his new venture — LỰU ĐẠN, a menswear label available exclusively at SSENSE — that could soon change. The seeds for the brand were first sown during lockdown, Hung tells us, over days spent contemplating notions of identity and displacement in the wake of the events of America's racial reckoning over the summer of 2020, and the wave of anti-Asian hate crimes that have plagued the nation since the onset of the pandemic. "Being Vietnamese-American, living in London and being far away from my family, I think I was just yearning for my roots in a way," he says. "I just wanted to get back in touch with where I was from."
LỰU ĐẠN — the title being the Vietnamese homonym for both a grenade and "a dangerous man — a bit of bad boy that you wouldn't necessarily take home to mom" — was therefore founded with the intention of "spotlighting Asian stories — not just about the idea of an Asian bad boy, but also about the diversity within this character, broaching themes of Asian masculinity and Asian sexuality." Drawing on a pool of inspirations as wide as the photography of Katsumi Watanabe and Jōji Hashiguchi, and designs of Kansai Yamamoto, LỰU ĐẠN's debut collection brings a textured sense of plurality to the representations of Asian masculinity in fashion — an effect enhanced in the collection's lookbook, shot in New York's largest Chinatown in Flushing, Queens.
The clothes themselves echo the bricolage of references that informs the brand, spanning low-slung bōsōzoku trousers — originally worn by Japanese biker gangs, and later referenced by Yohji Yamamoto's SS00 collection — sharply tailored outerwear, Nordic-y knit cardis and shirts printed with floral motifs — originally painted by Hung's grandmother. More than just a brand, however, Hung intends to turn LỰU ĐẠN into a forum for young men in Asian communities worldwide. "There is so much creative energy within the Asian community, and one of our bigger ambitions of the brand is to do the city tours, focussing on local talents in different places," he says. "Here, we're starting with New York, but we would love to take this to Manila, Ho Chi Minh City, Chengdu, London, Vancouver and find Asian talents to work with. We want this to be a uniform that they can embody in a meaningful way." MS.
Givenchy have launched their iconic GIV1 trainer: the sequel
It's rare that a sequel is better than the original, but with their reboot of their it-trainer of 2021, the Givenchy team have somehow outdone themselves. A sequel to their SS21 trainer GIV1, the GIV1 TR (don't ask us what the TR stands for) is a new look for the shoe. Featuring high and low top options, the mixture of mesh and leather is now more technical than the first iteration, designed for high-performance activity like hiking or running from one Paris Fashion Week afterparty to another. Colourwise, your options are cloudy grey, graphite and steel blue offset by soles in chocolate brown, all-black or an online exclusive half-black option. Now available in stores and online at givenchy.com, go check out one of this season's must-have trainers now! TG
Moncler are saying bye to fur
Now, more than ever, it's important for the fashion world to think about its contribution to caring for the planet and its creatures. Taking on that challenge is Moncler, who have announced that from this year on, they will no longer be using fur in their collections. The brand will now completely stop sourcing pelts for its designs meaning that the final time we'll see fur walk down the runway will be in for the SS23 collection this fall. It's a move that has been supported by the brand's ongoing engagement with Italian animal rights organisation LAV and comes as they launch their second Born To Protect collection, featuring a collection of responsibly sourced, sustainable ready-to-wear garments, helping to create a better future for all. It's a great start and we can't wait to see how Moncler continues to set examples that we hope other houses will follow. TG
It's the Year of the (Balenciaga) Tiger
Balenciaga is one of those rare brands that, when you're sure that they couldn't possibly one-up themselves, manages to do just that. After that Simpsons collab, the couture show of the century and turning everyone from Kim and Kanye to Alexa Demie into official ambassadors, the Parisian fashion house has only gone and blown its competitors' attempts to celebrate the arrival of the Year of the Tiger out of the water. How, you ask? Well, rather than simply put out a kitschy animal print capsule, Demna and the gang have put out a mechanical brass sculpture of the big cat itself. The result of a collaboration with Shanghai-based artist Nik Kosmas, the sizeable artwork forms part of Balenciaga's Objects line, a range produced independent of the fashion calendar, and spanning everything "from limited edition objets d'art to practical everyday items," a release reads. Granted, this metal kitty falls firmly in the latter camp – it's only been produced in a numbered series of 15, and is only available in a handful of stores worldwide — including the Sloane Street flagship store, for all you London girls. As the price? It's strictly POA, but that's hardly a surprise — pedigree felines like this don't come cheap! MS
Image courtesy of Carhartt WIP
Stray Rats pair up with Carhartt WIP for a new capsule collection
After collaborating with New Balance and Heaven by Marc Jacobs at the end of 2021, the Miami-born, NYC-based brand Stray Rats' first project of 2022 is a collection with heavy-duty American apparel label Carhartt WIP. Julian Consuegra's brand has spent the past 12 years crafting a nostalgic fashion ode to the US' punk and underground counterculture scenes, constructing nine pieces for the capsule from canvas and denim. There are tees, beanies and joggers featuring the two brand's logos and a pixelated rat print, and then a hoodie, jacket and cap all littered with hand drawn artworks like the streets of New York themselves.  Each of the pieces has been treated to give an aged effect too, as if you haggled for them from a vintage streetwear vendor and not simply added them to your basket from your phone in bed. Available from today, check them out on the Stray Rats and Carhartt websites or scurry into a Carhartt WIP store. TG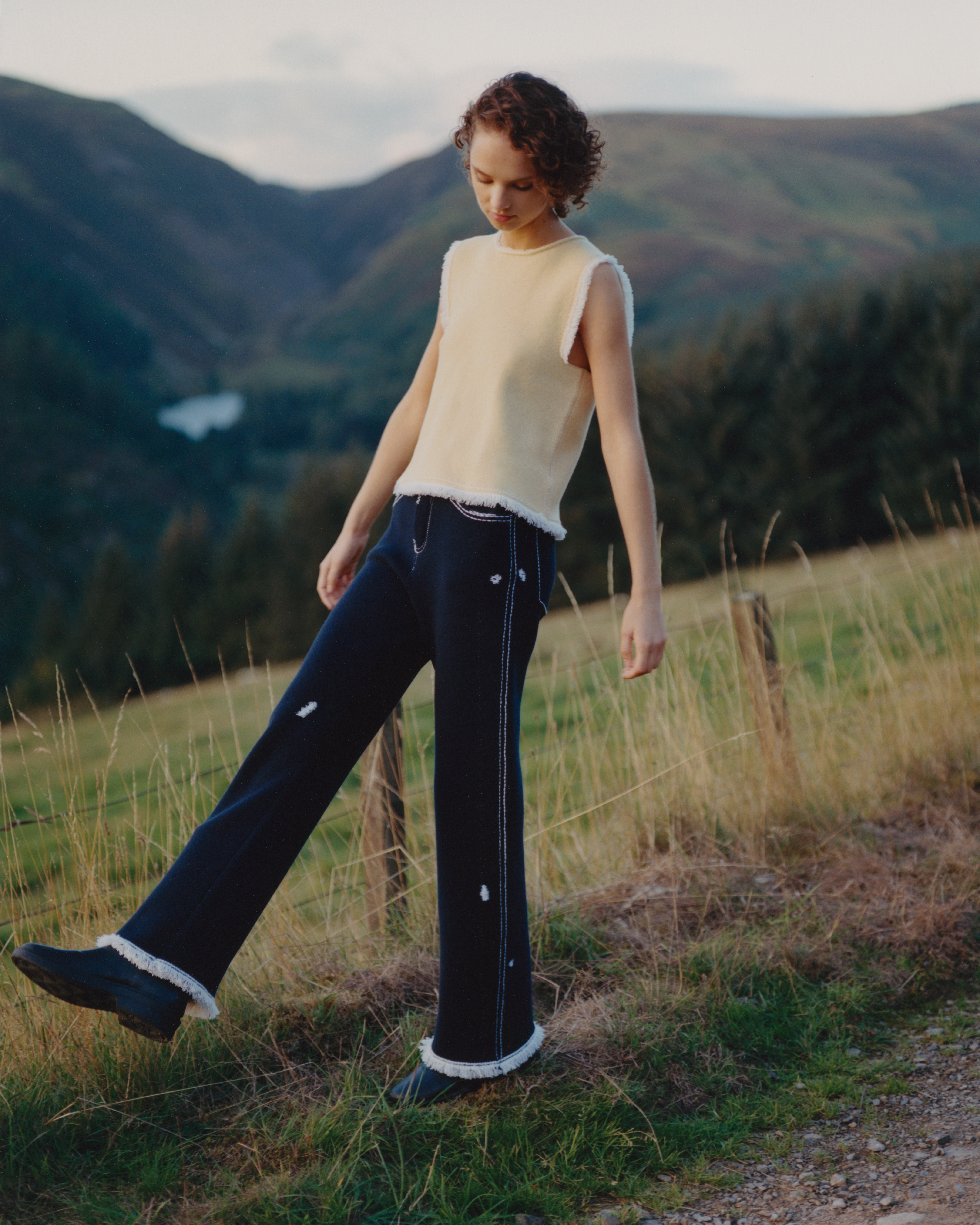 Image courtesy of Barrie
The Chanel-owned Scottish cashmere brand you need to know
Is there anything quite as chic as a well-worn cashmere sweater? Well, if you say there is, then we just don't believe you. Sorry! Anyway, some of the best in the biz at creating totally-to-die-for cashmere are no doubt Barrie, the Chanel-owned label based between Paris and Scottish Borders town of Hawick. Though it may not be quite as famous as the international fashion circuit as the French city where Barrie maintains its design studio, there's good reason to get to know what's going on up here. Founded in 1903, it's one of Scotland's longest-running cashmere producers, and is, since 2012, one of the 38 métiers d'art — alongside embroiderers Lesage and hatmaker Maison Michel — beneath the Chanel umbrella. A pretty fab endorsement, if you ask us!  
Where Barrie demonstrates the full extent of its creativity and savoir-faire, though, is through its namesake line, sold online as well as through standalone stores in London and Paris. Under the creative direction of Augustin Dol-Maillot, the label is on a mission to reframe expectations of what cashmere knitwear can look like, working on everything from the cosiest of sweaters to richly textured denims, and even T-shirts appliquéd with panels of 3D designs that required custom-written code to create — talk about high-luxury meets high tech! 
For SS22, Augustin and the team drew inspiration from the heathered landscapes that surround its Hawick home, bringing the light and spriteliness of the long Scottish summer days to life through sporty separates in poppy florals, stripes and pastel colour blocks, with each piece the culmination of generation's worth of savoir faire. With the collection set to launch any moment, we caught up with Augustin to hear more about his future-forward vision for the house, and how he's recalibrating perspectives around the possibilities of cashmere.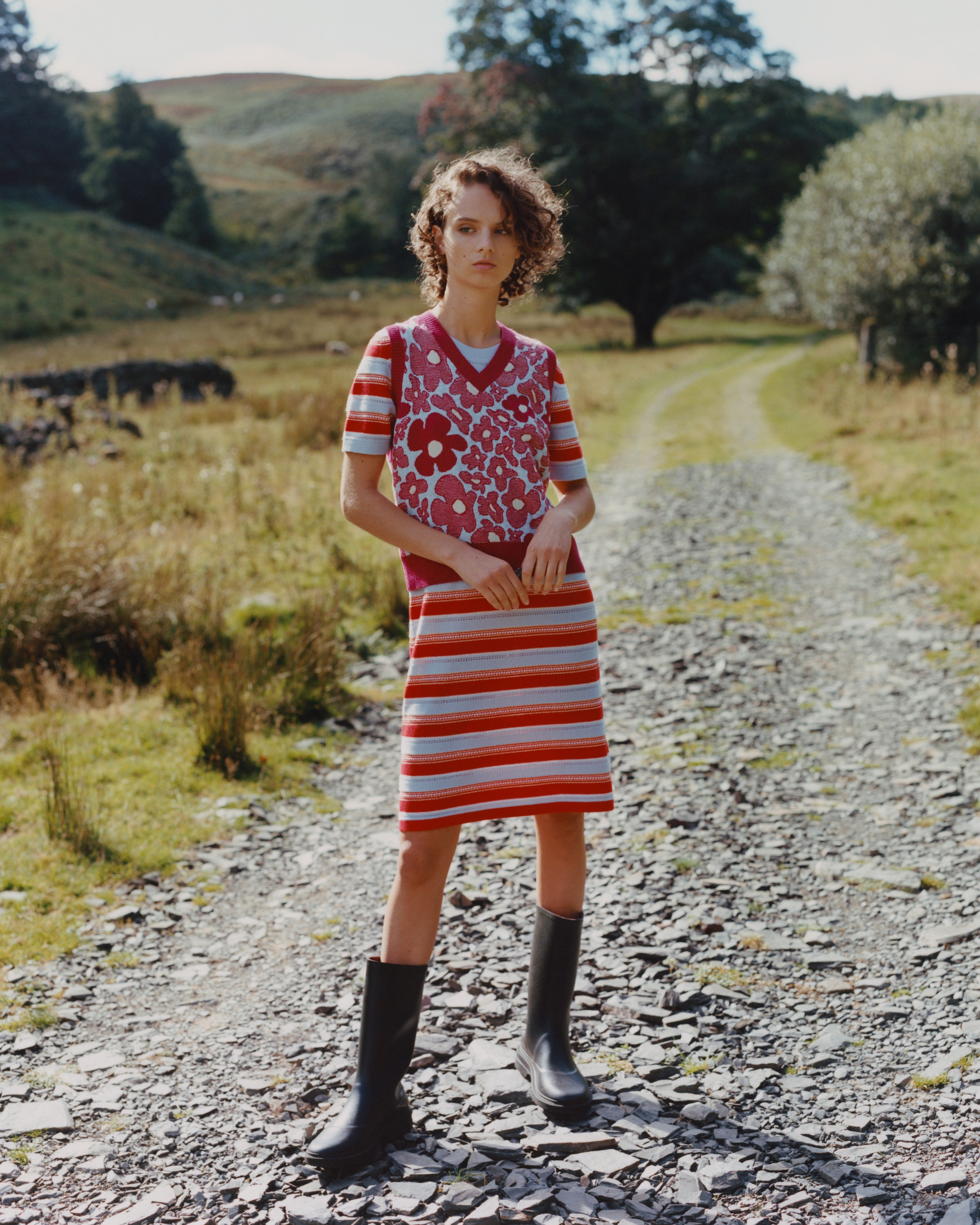 Image courtesy of Barrie
Hi Augustin! What does Barrie represent to you? And how would you introduce your vision for the house?
Barrie is a very special house for me, as I was offered this role by a person very dear to my heart*. This is my first time as an Artistic Director — it's a little like a first love affair. It's also where I discovered my true passion for knitwear, which I had previously only worked with in passing. Since I also have experience as a graphic designer, I immediately saw the connections that I could create between these two fields — I usually describe knitwear as the textile version of 3D printing. My vision for Barrie is to establish a brand that is as long-lasting as its products, by showcasing the house's savoir-faire and the timeless relevance of cashmere.
What excites you most about the house?
Its history and savoir-faire! The manufacturer has been active for such a long time, ensuring the legacy of Scottish cashmere, while keeping an open mind and an awareness of the changing world. I love this combination of great tradition and a very fast-moving vision of changing fashion. The way that the manufacturing side and the studio are able to work together and exchange is incredible. The technical advances push our own creativity and our creativity allows the techniques to evolve.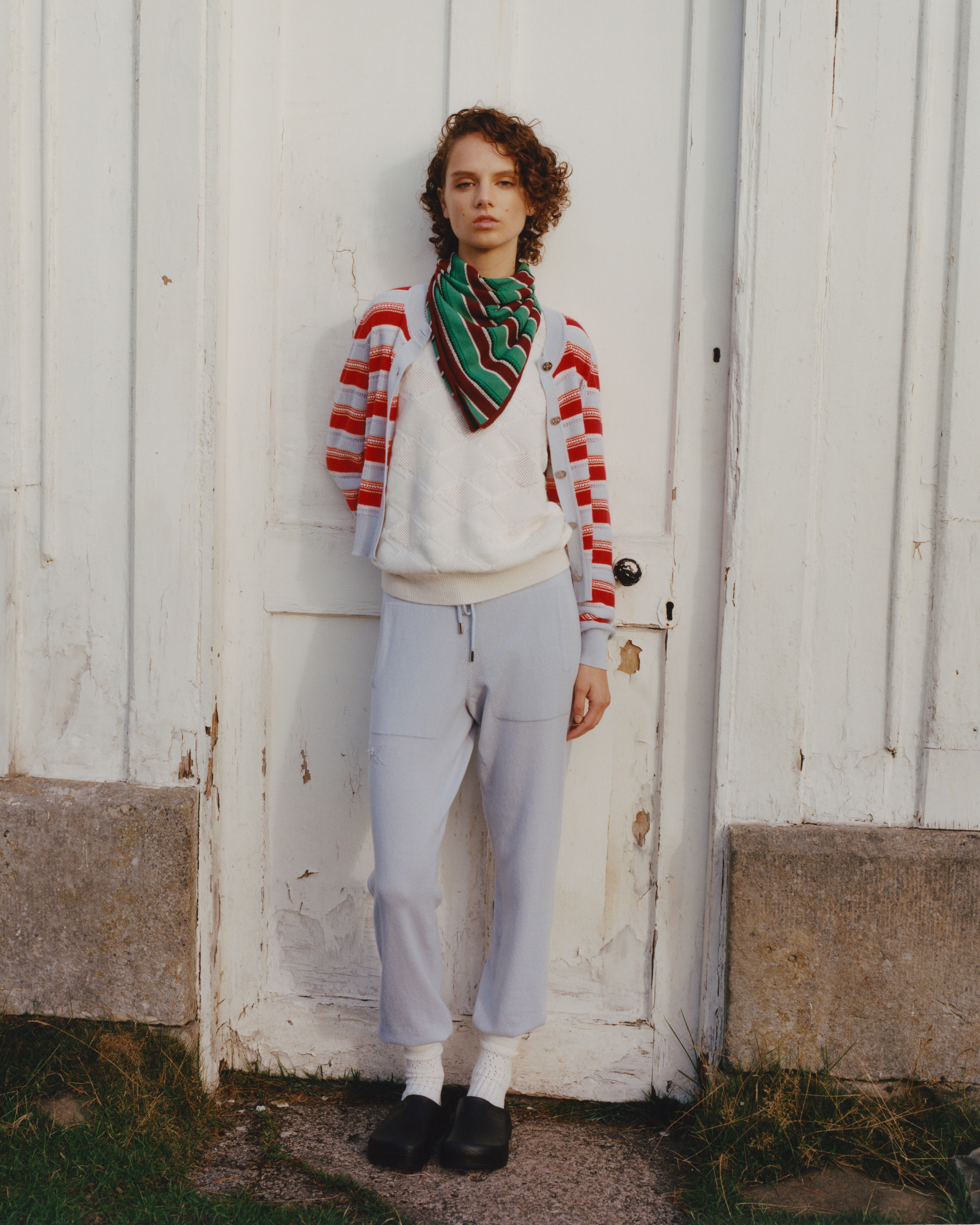 Image courtesy of Barrie
And what excites you most about cashmere?
It's very stimulating to work with a single material. It pushes you to reinvent yourself with every collection. You have to discover how to stay relevant whilst transforming the fabric and giving it a new appearance. It's all about challenges, such as creating the summer collection, for example. Making cashmere desirable even in summer, through our use of colours, shapes, stitches, weight…
What would you say are people's greatest misconceptions of cashmere? And how are you trying to change them?
People assume that cashmere only exists for basic pieces like cardigans or round-neck sweaters. We want to maintain these timeless, long-lasting pieces but also introduce new shapes and new key pieces. We want to show that cashmere can be creative.
The other common misconception about cashmere itself is that it is extremely soft from the very beginning. This softness actually occurs after the washing part of the process. Every time you wash your cashmere (in the right conditions, of course!) it gets softer. So you need to wash your cashmere, not over-protect it!
 *Augustin refers to Karl Lagerfeld. At the age of 16, his story with the world of fashion began when he joined the CHANEL Studio for summer internships for several years in a row.